Construction of the addition, 12 classrooms on each wing and an expanded cafeteria, has begun. This will cause a few changes to the rear entrances of the school. Both North and South Hall rear entrances will be closed. Students will need to use the Southeast PE hall entrance as well as the Tech hall entrance in order to enter/exit the building. Also, the east door to the cafeteria will be closed.

During the school day, classes in the portables will be let out a few minutes early in order for students to get to their next class on time. In the event of an emergency, all exits will be accessible for students to exit the building.

Powered by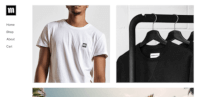 Create your own unique website with customizable templates.